Southern Illinois cabin rental
DOC'S LAKESIDE CABIN
just what the Doc ordered
Southern Illinois cabin rental
DOC'S LAKESIDE CABIN
just what the Doc ordered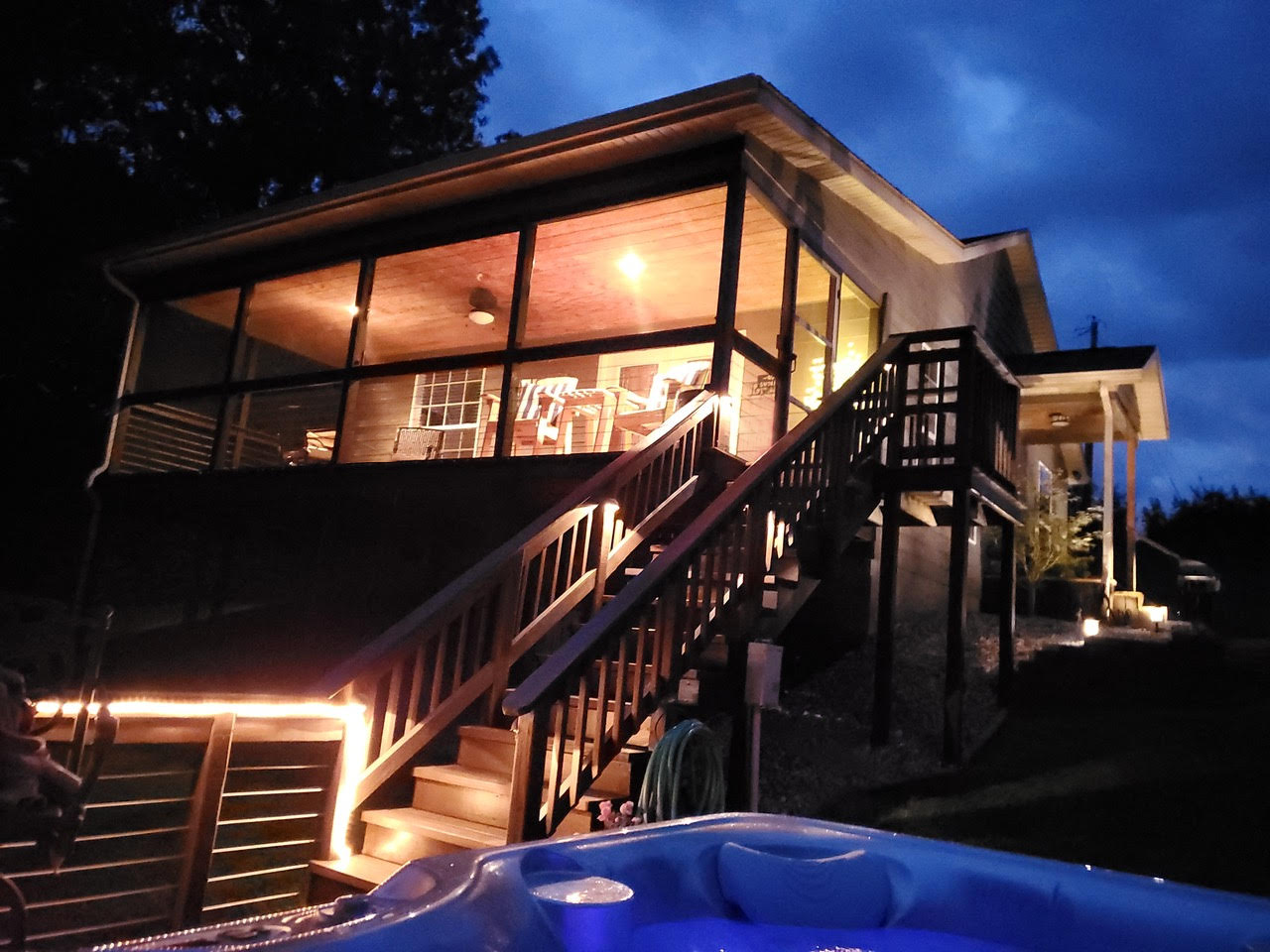 Premier Adults Only Cabin Rental
Explore The Beauty of Southern Illinois
Imagine soaking in a large hot tub on an open deck, viewing the beautiful sunsets and moonlit nights over the peaceful 6 acre lake.
Start your morning with coffee on the screened in porch.
If a romantic getaway cabin is what you have in mind, then
our vacation rental may be
"just what the Doc ordered".
Living/Great Room

43″ Flat Panel 4K UHD TV with Direct TV

King and Queen Sized Beds
Outdoor Living Spaces with Brick Patio and Fire pit.
Furnished Kitchen

Spacious Hot Tub

Screened Balcony with Solar Shades

Beautiful Lake with Fishing Dock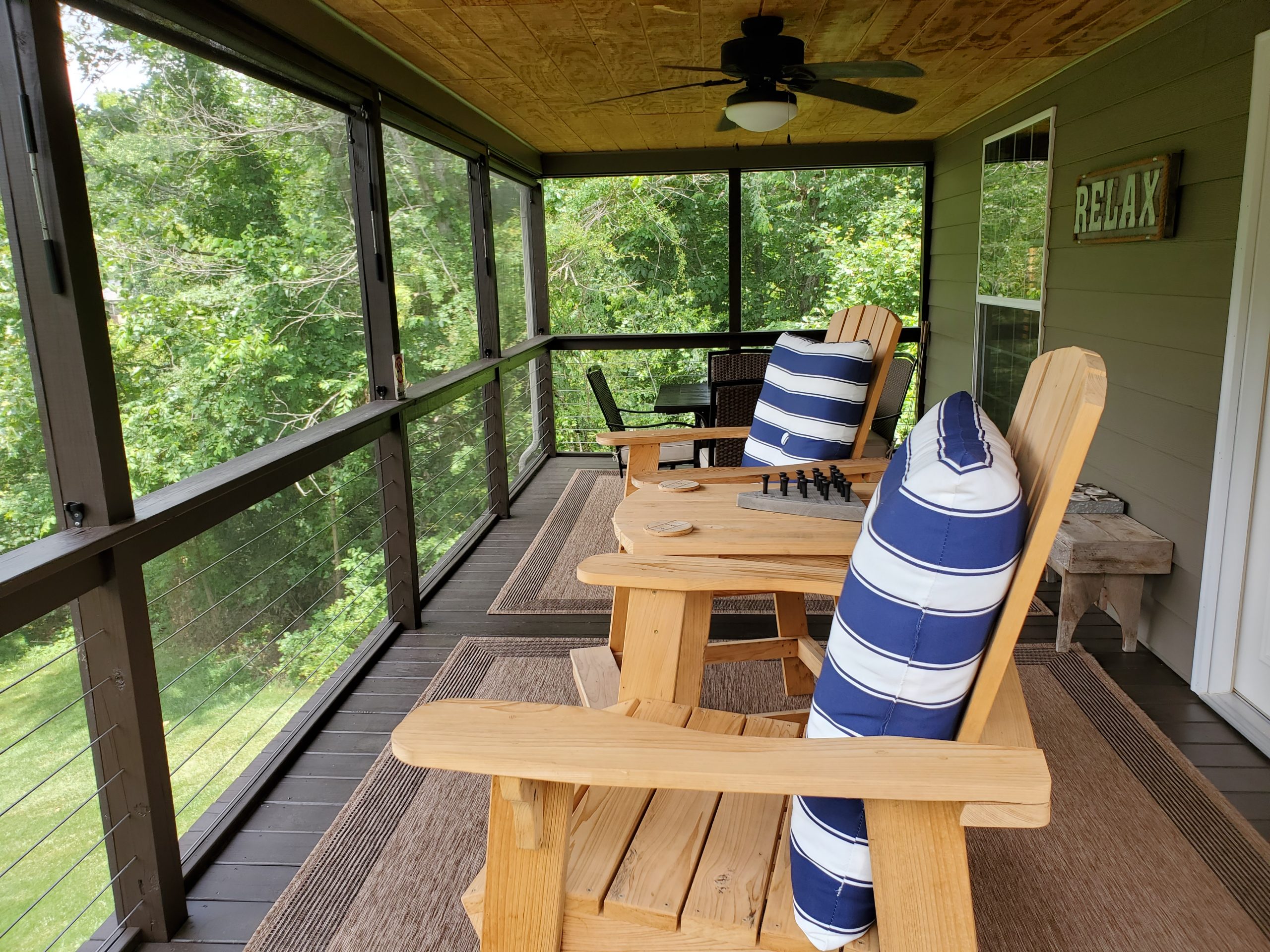 Doc's Lakeside Cabin was built in 2012 on a private, 6 acre Lake. Surrounded by beautiful hills and the Shawnee National Forest Trail of Tears, we are family owned and operated in Jonesboro, Illinois.
As our family roots surrounds this peaceful getaway cabin, we want our of guests to feel like "they are family".
read our reviews
What People Say
Tanya & Robert,
I am so grateful that there was a cancellation so we could enjoy our time away from our daily routines.  My happy place is usually going to the beach.  Since Covid has became a thing, the no travel to other states made my beach therapy non existent.  I never knew Southern Illinois could make me feel better.  The cabin is wonderful.  So peaceful.  We are pretty much raising  our 1 yr old grandson, which  I love more  than anything, but  Mawmaw needed a break.  So this getaway is what I needed.  We were able to go into MO for sit-down dinners.  It really is the little things in life we take for granted.  we went to Fern Clyffe State Park, you were right absolutely beautiful. thank you once again.  God Bless your family I know "Doc" would be proud of you. *We plan on being back
Doc's Cabin was absolutely PERFECT!! You just can't beat the price for what this cabin offers. It was secluded, quiet, clean and smelled amazing. My husband and I left there without a single complaint. The only visitor we had the whole time was their sweet dog Daisy. Everything was perfect from fishing, to the wine trails and the hot tub. We can't wait to come back. Thank you Tanya & Robert for the perfect romantic getaway!!
My wife and I spent our anniversary in December together enjoying the Southern Illinois Wine Trail and selected this cabin for our overnight stay. It is the perfect size which makes for a cozy feeling and has all the modern touches that we were looking for. The outdoor space is beautiful and the hot tub is completely spotless and is much better than the typical entry level models you find at most rental properties. The outdoor lighting on the steps and deck are a very nice touch. It is conveniently located 25 minutes or so from Cape Girardeau and a short drive to all of the popular local vineyards. This is a fantastic property for a great getaway for you and your significant other! Keep in mind this cabin is spotless and you can tell that the owners go to great lengths to maintain this property in tip top shape. So, as a likely returning customer we encourage others to treat this place like their own so it will be just as perfect for many years to come!
Our first stay here at Doc's Cabin.  Great, relaxing few days here. Celebrating our 28th wedding anniversary.  We Love the sounds of nature.  Went fishing and caught a few bass & a bluegill.  The alligator turtle was biting our worms on the line too!  The hot tub was awesome.  Thanks for sharing your amazing cabin.  Definatly needed this time away to relax, during this uncertain times during Covid-19 pandemic.  We tried to have a fire in the fire put last night but it started raining.  So we watched a movie. We hope to be back soon & make this a regularly destinatio.
Tanya & Robert,
My husband and I LOVE Southern IL, and we have stayed in many cabins. Yours by far is set apart from the rest. First, it smells great when you walk in the front.  The grounds are meticulously kept up.  The screened in porch absolutley makes this place!!!  We even noticed you screened in the flooring!!  The master bed is a King, which is rare, and the kitchen has pretty much anything we would need to not be able to leave much during COVID-19.  Tanya checked in several times, which is also unusual  THANK YOU, THANK YOU for a beautiful reprieve from our daily lives.  WE WILL BE BACK!!
Came down for our 15th wedding anniversary. Great place to get away, quiet and relaxing. CLEAN, with attention to detail. The hospitality of the place is above and beyond with the care they take to make it a well stocked retreat in top condition. Very inviting. Thanks for sharing your cabin it's just what we needed!
We love Doc's Lakeside Cabin! My husband and I have visited several times over the last few years and we always look forward to it. You walk in and you immediately feel right at home. It is the perfect place to relax and unwind. Enjoy some coffee on the screened in porch, hot tub under the stars or snuggle up on the couch to watch a movie. We will most definitely be visiting again soon!
Shawnee wine trail
bald knob cross
cache river wetlands
shawnee national forest
bike trails
orchards
horseback riding